Tour de France cycling tours – the ultimate way to discover France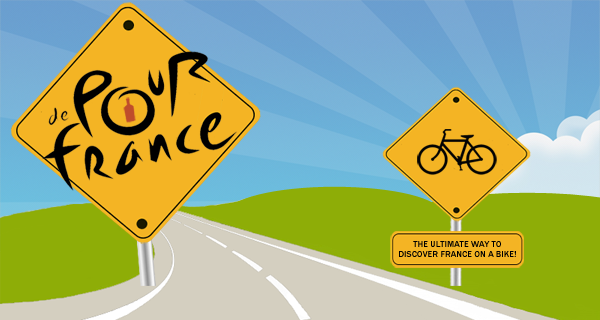 It's 100 days to go to the 100th Tour De France so we've put  together our own version based on Breakaways' cycling tours around the best wine  regions of France. Rather than hurtling up Alpine peaks like Messrs Wiggins and  Cavendish, we'd prefer something a little more leisurely with plenty of  opportunities for meandering through French vineyards sampling outstanding  wines, ensuring there are plenty of cafe pit-stops and photo breaks (lycra  clothing isn't necessary either!).
From Burgundy to Brittany, why not choose your own Tour De France cycling sampler tour stage, OR  if you really love French wine and cycling amidst world famous vineyards then  you can follow our 52-night route on either June 6th (costing $20, 417 per person)  or September 14th ($19,493 per person). However for customers who respond by April 15, 2013 we're offering a $3,000 discount if you book the whole route!!

 Burgundy
From  the fertile basin around Auxerre, in the north west, and the ancient massifs of  Morvan and Charollais in the south, Burgundy is a wonderfully diverse region.  It's been synonymous with 'gastronomy and good living' since Roman times and, in  the limestone plateaux of La Cote, some of the world's most expensive wines are  still produced. Your route here follows our gentle Chablis Vineyards Cycling  route, featuring world-famous wines (lots of tasting opportunities!), forgotten  country villages and superb local cuisine.
Burgundy stage: 6 nights from $2,397 per person, based on 2 people sharing a double/twin room.

 Alsace
This  is one of France's best-kept secrets and the tiny region has its own distinct  character. Much of its charm lies in its fairytale towns and villages – narrow  cobbled streets, Gothic churches, cool fountains and bright flowers. Almost  everywhere has its cave and some villages have their own vintages that aren't  produced anywhere else. You follow the route of our Rivers and Vineyards Cycling  through vineyards, orchards and flower-festooned beautiful villages. This  off-beat holiday is rich in historic and gastronomic treasures!
Alsace stage: 8 nights from $2,794 per person, based on 2 people sharing a double/twin room.

  Franche  Comte
Here you'll find France profonde – unchanged over the years, with  charming village squares decked with pavement cafés, geranium-filled balconies  and traffic-free country lanes. It's also famous for its gastronomy – chef  Raymond Blanc comes from here – and chocolates, cheeses, cherries and wines are  plentiful. Follow the Two Rivers Cycling circuit to explore the rich cultural  heritage and beautifully unspoilt countryside of the high Jura. UNESCO-listed  sites, onion-domed churches and cherry-carpeted hills await.
Franche comte stage: 8 nights from $2,777 per person, based on 2 people sharing a double/twin room.

  Provence
A  magical place filled to the brim with interest and graced with more than 300  days of sunshine a year. It's a rich mix of pretty villages, colourful markets,  beautiful scenery and fascinating historic sites. All this plus the world-famous  Côtes du Rhône vineyards too! Here the Vaucluse Vineyards Cycling route circles  the famous Côtes du Rhône vineyards, and includes 2 nights in Vaison la Romaine – France's most extensive Roman site.
Provence stage: 8 nights from $3,064 per person, based on 2 people sharing a double/twin room.

The  Dordogne
Here a wealth of prehistoric and mediaeval influences, dramatic  landscapes and rich cuisines distinguish the region from everywhere else in  France. Try the gourmet fare of foie gras, truffles and confits d'oie – washed  down with the fine Cahors or Bergerac wines. Follow our Dordogne Gastronomic  Cycling – wonderful gastronomic meals, world-famous wines, fabulous historic  sites and postcard-pretty villages are just a few of the highlights of this  popular tour.
Dordogne stage: 8 nights from $3,139 per person, based on 2 people sharing a double/twin room.

The  Loire
This region has a special place in the affections of visitors to  France. It has one of Europe's most congenial climates, world-famous Chateaux  and wonderful cuisine. And, of course, its vineyards produce a bigger variety of  wines than any other wine region in the world, always delicious and in good  years, amongst France's greatest vintages. Here you'll experience the Loire  Gastronomic Cycling – a gentle introduction to the very essence of the Loire  Valley: majestic chateaux, wide rivers, world-famous wines and some of the  finest food we've ever eaten!
Loire stage: 6 nights from $3,194 per person, based on 2 people sharing a double/twin room.

Brittany
Visitors  here have long since been seduced by wonderful scenery, fantastic food and  majestic coastline. The vividly contrasting landscapes have made it an artists'  haven over the years yet, despite its popularity, you can still get away from it  all and find your own hidden delights. No great wines from here… but lots of  excellent ciders to choose from! Follow the Emerald Coast Cycling route to  explore this largely unspoiled region of traditional fishing ports, colourful  country hamlets and beautifully preserved walled towns unchanged since the  Middle Ages.
Brittany stage: 8 nights from $2,941 per person, based on 2 people sharing a double/twin room.