March 27th, 2013 by
Breakaway Adventures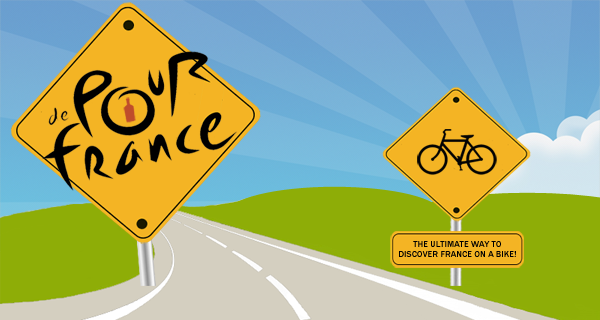 It's 100 days to go to the 100th Tour De France so we've put  together our own version based on Breakaways' cycling tours around the best wine  regions of France. Rather than hurtling up Alpine peaks like Messrs Wiggins and  Cavendish, we'd prefer something a little more leisurely with plenty of  opportunities for meandering through French vineyards sampling outstanding  wines, ensuring there are plenty of cafe pit-stops and photo breaks (lycra  clothing isn't necessary either!).
From Burgundy to Brittany, why not choose your own Tour De France cycling sampler tour stage, OR  if you really love French wine and cycling amidst world famous vineyards then  you can follow our 52-night route on either June 6th (costing $20, 417 per person)  or September 14th ($19,493 per person). However for customers who respond by April 15, 2013 we're offering a $3,000 discount if you book the whole route!!

 Burgundy
From  the fertile basin around Auxerre, in the north west, and the ancient massifs of  Morvan and Charollais in the south, Burgundy is a wonderfully diverse region.  It's been synonymous with 'gastronomy and good living' since Roman times and, in  the limestone plateaux of La Cote, some of the world's most expensive wines are  still produced. Your route here follows our gentle Chablis Vineyards Cycling  route, featuring world-famous wines (lots of tasting opportunities!), forgotten  country villages and superb local cuisine.
Burgundy stage: 6 nights from $2,397 per person, based on 2 people sharing a double/twin room.

 Alsace
This  is one of France's best-kept secrets and the tiny region has its own distinct  character. Much of its charm lies in its fairytale towns and villages – narrow  cobbled streets, Gothic churches, cool fountains and bright flowers. Almost  everywhere has its cave and some villages have their own vintages that aren't  produced anywhere else. You follow the route of our Rivers and Vineyards Cycling  through vineyards, orchards and flower-festooned beautiful villages. This  off-beat holiday is rich in historic and gastronomic treasures!
Alsace stage: 8 nights from $2,794 per person, based on 2 people sharing a double/twin room.

  Franche  Comte
Here you'll find France profonde – unchanged over the years, with  charming village squares decked with pavement cafés, geranium-filled balconies  and traffic-free country lanes. It's also famous for its gastronomy – chef  Raymond Blanc comes from here – and chocolates, cheeses, cherries and wines are  plentiful. Follow the Two Rivers Cycling circuit to explore the rich cultural  heritage and beautifully unspoilt countryside of the high Jura. UNESCO-listed  sites, onion-domed churches and cherry-carpeted hills await.
Franche comte stage: 8 nights from $2,777 per person, based on 2 people sharing a double/twin room.

  Provence
A  magical place filled to the brim with interest and graced with more than 300  days of sunshine a year. It's a rich mix of pretty villages, colourful markets,  beautiful scenery and fascinating historic sites. All this plus the world-famous  Côtes du Rhône vineyards too! Here the Vaucluse Vineyards Cycling route circles  the famous Côtes du Rhône vineyards, and includes 2 nights in Vaison la Romaine – France's most extensive Roman site.
Provence stage: 8 nights from $3,064 per person, based on 2 people sharing a double/twin room.

The  Dordogne
Here a wealth of prehistoric and mediaeval influences, dramatic  landscapes and rich cuisines distinguish the region from everywhere else in  France. Try the gourmet fare of foie gras, truffles and confits d'oie – washed  down with the fine Cahors or Bergerac wines. Follow our Dordogne Gastronomic  Cycling – wonderful gastronomic meals, world-famous wines, fabulous historic  sites and postcard-pretty villages are just a few of the highlights of this  popular tour.
Dordogne stage: 8 nights from $3,139 per person, based on 2 people sharing a double/twin room.

The  Loire
This region has a special place in the affections of visitors to  France. It has one of Europe's most congenial climates, world-famous Chateaux  and wonderful cuisine. And, of course, its vineyards produce a bigger variety of  wines than any other wine region in the world, always delicious and in good  years, amongst France's greatest vintages. Here you'll experience the Loire  Gastronomic Cycling – a gentle introduction to the very essence of the Loire  Valley: majestic chateaux, wide rivers, world-famous wines and some of the  finest food we've ever eaten!
Loire stage: 6 nights from $3,194 per person, based on 2 people sharing a double/twin room.

Brittany
Visitors  here have long since been seduced by wonderful scenery, fantastic food and  majestic coastline. The vividly contrasting landscapes have made it an artists'  haven over the years yet, despite its popularity, you can still get away from it  all and find your own hidden delights. No great wines from here… but lots of  excellent ciders to choose from! Follow the Emerald Coast Cycling route to  explore this largely unspoiled region of traditional fishing ports, colourful  country hamlets and beautifully preserved walled towns unchanged since the  Middle Ages.
Brittany stage: 8 nights from $2,941 per person, based on 2 people sharing a double/twin room.
March 27th, 2013 by
Breakaway Adventures
The beautiful cities of Europe are known for their outdoor markets, restaurants, shops and museums and are a fantastic way to experience the urban life before heading out to the countryside for a completely different pace on one of our walking or cycling tours.The stopover hotels we've chosen are pretty special, and include **** boutique hotel in Lisbon just off the famous Avenida da Liberade, a beautiful traditional hotel in the heart of Granada and a cozy port hotel in the vibrant city of Marseille.
Offer applies to these tours only on dates specified with one extra night at our recommended hotel (subject to availability). Booking deposit must be received by March 26, 2013.
Classical Spain Walking & Sightseeing
This exceptional guided tour combines discovering Andalucia's "must see" sights with going further afield to find hidden white-washed hamlets and flower filled country paths. Highlights are Ronda's world-famous bull ring, Seville wth its stunning Alcazar and streets crammed with lively tapas bars , the famous cathedrals and palaces of Cordoba and the grande finale of Granada's Alhmabra – one of the most famous building in the world. Prices starting from $3,864 per person. Offer applies to Apr 12, Apr 26 & May 12 departures only.
Extend your holiday in Granada with a FREE night at the 3 star Hotel Dauro II boasting a central location in the heart of the city, just feet from the Cathedral.
This 7 night guided tour features some of the most  spectacular walks in Provence through medieval villages, bustling fishing  harbors and along magnificent coastal stretches of the famous Cote d'Azur.   We'll visit the Provencal market at Le Lavandou and enjoy a champagne lunch on a  private sailing yacht! From $3,319 per person fully inclusive with breakfast, 6 lunches and  all evening meals.  Offer applies to May 5, May 12, May 19 departures  only.
Extend your holiday with a FREE night in Marseille at the 3 star Hotel  Carre Vieux Port,  situated by the well-known old port – the perfect location to  make the most of this vibrant city.
Portugal is a compact land whose historical and cultural  influences are as rich as her national landscape is diverse. Our unspoiled walks  led by experienced guide, take in lush valleys, turquoise lakes, Bronze Age  remains and Moorish settlements.  Your base for the week is the wonderfully  peaceful and hugely charming 4 star Convento de Belmonte – oozing with the feel  of luxury and exclusivity.  This full  inclusive tour is priced from $2,848 per person and includes continental  breakfast, 5 lunches and all evening meals (with wine). Offer applies to May 25 & amp; Jun 1 departures only.
Extend your holiday with a FREE night in  Lisbon at the lovely 4 star Hotel Lisboa Plaza Hotel. Owned by the same family  since 1952, this imaginatively designed hotel is situated just off the famous  Avenida da Liberdade.
March 27th, 2013 by
Breakaway Adventures
Regular Breakaway guests often ask us to come up with an independent  walking tour in Croatia, so we're delighted to be introducing Castles to Coast Walk into our 2013  portfolio.
This new walking holiday opens up a  timeless world that in the oldest towns takes you back 2000 years. The Croatian  provice of Istria lies at the very northern tip of the Adriatic.   
Istria was part of the Venetian empire for 300 years, and is  a fusion of Croatian and Italian influences in cuisine, architecture and  language – so much so that it is often referred to as Croatia's Tuscany.
You begin with three nights in a converted C17 palace with a  stunning spa in hilltop Motovun. Here, walks follow high ridges and an abandoned  railway offers panoramic views over truffle-rich valleys of oak, fruit orchards,  and emerald ranks of vines.
From Motovun you walk above the Mrna River valley to the  fortified hill town of Buzet, for two nights in a beautiful converted townhouse,  set within the original C18 Venetian battlements.  You then head east to the  bright lights of the Adriatic Riviera, summiting Istria's highest peak – Mt  Vojak (1401m) – along the way for incredible views as far as the Dolomites and  Switzerland.
The final two nights are spent in Lovran, once the  playground of the wealthy classes in the C19. Impressive villas line the shore,  shops and cafes cluster around C17 churches, and fishermen land their catch just  outside bustling local restaurants on crowded marinas. Home in Lovran is a converted villa  just 50m from the waterfront with sea view balcony rooms. Dining options are  excellent and varied, so we have included two dinners, with five nights free to  enjoy local restaurants.
Departs on Tuesdays from May 7 to Sep 24 with prices  starting from $2,759 per person, per night based on two people sharing a double  room.
Places are limited, so early booking is advised.